Bishop Chadwick Catholic Education Trust was established in 2020 and is a multi-academy Trust serving the east area of the Diocese of Hexham and Newcastle.
We currently have 25 primary schools and 5 secondary schools in our family, with a further four primary schools set to join by the end of 2023. Our schools are located across East Durham, South Tyneside and Sunderland.
Welcome from our CEO
Schools are the heart of our communities, providing the opportunity to achieve academic excellence, contributing hugely to the development of our communities, and showing the face of Christ to all.
As a family of schools inspired by Christ, we aim to enable each individual to fulfil their God given potential. Excellence for everyone, through learning, respect and partnership is at the heart of our Trust.

We passionately believe that every person should be able to become 'the best version of themselves' be that our pupils or our staff. We encourage everyone throughout the Trust to live our values on a daily basis: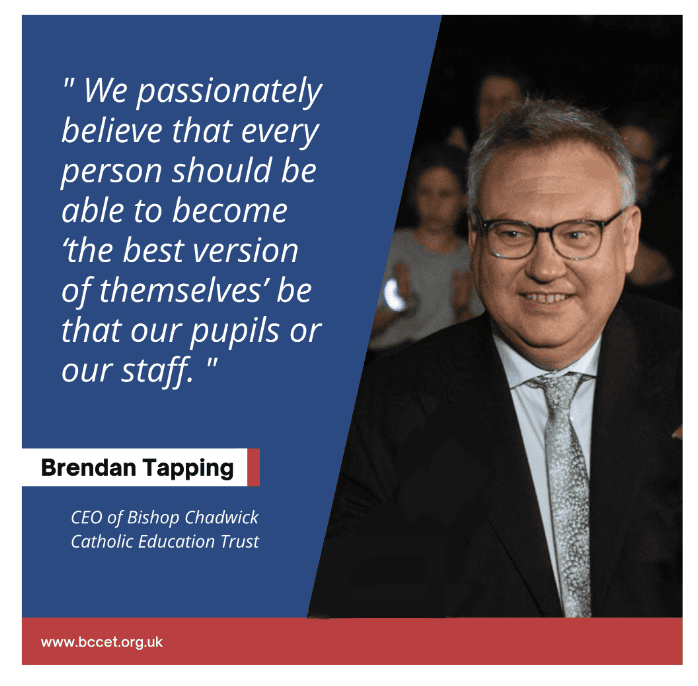 Gifts – support and encourage everyone to enable them to fulfil their potential
Respect – created in the image of Christ and treated with equity and fairness.
Aspiration – supporting everyone to be the best they can be, ensuring individuals needs are met.
Community – one spirit, one community, one team.
Celebration – recognition and acknowledgement of all our successes.
Excellence – achieve excellence in everything we do.
Our Trust family of schools all work collaboratively and we seek to achieve cohesion, not uniformity. Each of our schools is a unique community and it is important that they maintain their own uniqueness. We constantly look for ways to improve so that we can provide the best education for our pupils and the best opportunities for our staff.
I am very proud to be CEO of Bishop Chadwick Catholic Education Trust it is an honour to be part of shaping pupils educational journey every day.
Better Schools, Better Communities, Better futures in Christ.
Brendan Tapping
Chief Executive Officer